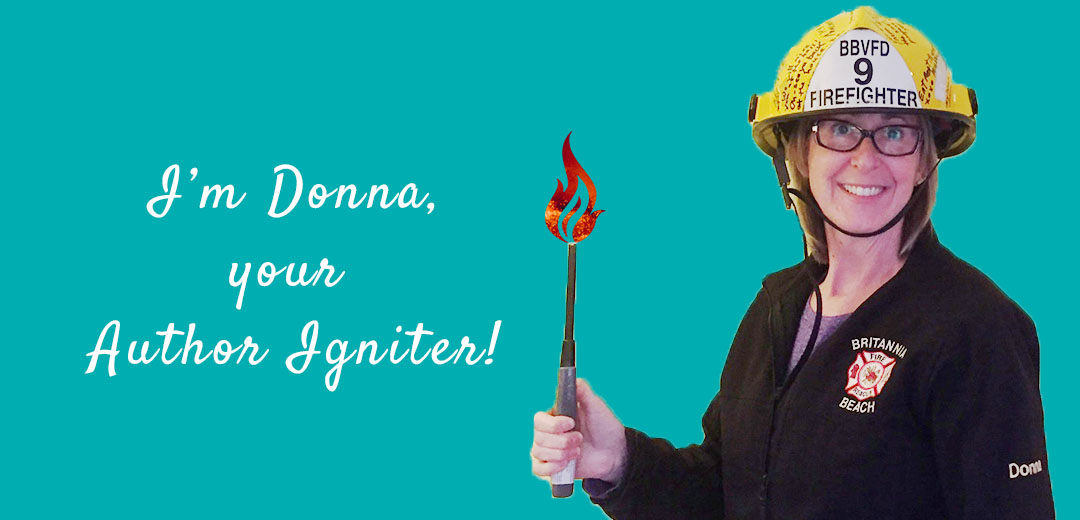 I help writers light their stories on fire!
Not literally, of course, though I was a volunteer firefighter for five years and everyone knows that the reason people become firefighters is because we love playing with fire — but know that lighting them is bad.
So, yeah, I could light your story on fire, but I'd rather ignite your passion, commitment, and courage to get your book written.
Have you been thinking about, or maybe even working on, your book for more than five years?
And, no matter how badly you want to finish it, you just can't seem to light the fire under your own butt?
Does your writing time get stolen by other people's needs for it and for you?
Does your focus get pulled to other, more important fires that need to be put out?
Do you struggle with inner voices telling you that you should give up this crazy dream?
Or worse, are there people in your life who are the opposite of encouraging?
Take a deep breath because the air is about to clear… and know that what you've experienced is what 99% of other writers go through, too.
The difference between them and you? Odds are that they found their author success team!
Guess what? You've just found your team!
(and you didn't even need to call 9-1-1)
I'll walk with you, step-by-step, page-by-page, so that all of the wet blankets that have been dousing your passion to tell your story, will dry up and float away.
With me on your team, you'll get that crappy first draft done (no judgement—every author's first draft is crap), you'll get your editing team in place, and you'll figure out how to get that beauty-of-a-book published.
No fire-starting writer left behind! That's what I always say! Truly.
You should've seen my eHarmony dating profile…
1) I was born and raised in French-speaking Quebec, to an English-Canadian dad and a Bostonian mom. Which is the excuse I use for my schizophrenic spelling, eh. Ostie. Huh? 
2) My umbilical cord tried to kill me, which I learned when I re-experienced my birth during a craniosacral treatment, three decades later. I've experienced several, powerful body memories from my childhood and youth. Cellular memory is so cool!
3) I've been practicing yoga weekly for many, many years and I will never love the down dog asana. But I adore cat-cow, which I guess makes me a cat person.
4) Speaking of cats… I have one. He's diabetic and I test his blood glucose level several times a day. His ear has seen more pricks than I met when I dated at age 40.
5) Speaking of dating at 40… my first marriage ended when I suggested to my husband that he have an affair while away on a business trip. Don't judge. It made sense at the time.
6) What didn't make sense was that mere weeks after he left me (surprise!) I thought it was a good idea to start dating. (Tip: Craigslist is the worst dating app ever!)
7) I really was a volunteer firefighter for five years. I stepped down due to my health. (But I still get to be Mrs. Claus at our community Christmas party for the kids!)
8) What was wrong with your health, Donna? Glad you asked! I started having seizures. And some things just don't belong together — like driving a fire truck and random, eyes-closed, shakey-shakes.
9) After many misdiagnoses about why my brain was seizing, I landed in hospital with meningitis. Seems Mr. Bastard Virus had been toying with me for 10 months before it decided to go all bad boy in my spinal fluid and try to kill me. On the upside, once Mr. B.V had been eliminated, the seizures stopped. Phew!
10) I published my first novel three weeks before I turned 50, because, Madame Fear, she loses her power once you've got five freaking decades of survival to prove that no matter what BS she whispers in your brain, Fear will not kill you!

I have…
a degree in Communication Studies with a major in documentary film-making (real, 16mm film!) …

 over 25 years experience as a ghost-writer, technical writer and curriculum developer for progressive, not-for-profit organizations …
written two complete novels, published one so far, and have another five works-in-progress …

developed adult ed workshops and seminars on over 40 topics for my clients …
delivered over 120 days of in-person writing, communications and financial literacy workshops in at least 30 Canadian cities and towns, as well as in the USA, Sri Lanka and Saipan …

taken 20+ online courses and attended about 50 in-person workshops related to fiction-writing, since 2012.
I am…
the co-creator of the Creative Academy …

a firm, but loving coach for writers who need a confidence boost and accountability …
the Vice President of the Greater Vancouver Writers Association: Romance and Beyond …

a member of the Writer's Union of Canada and the Canadian Media Guild …
a coach for entrepreneurs who need help writing their business plan and figuring out their cash flow …

a wife, a mom, a step-monster, a big sister to adult siblings…
done here!
Create Your Writer's Manifesto – free PDF playbook